Garlo's Pies is a fantastic example of a proactive business using FIAL's support to reach new markets. They have articulated their products' unique 'Aussie' qualities and developed uniquely tailored pitches to meet individual buyer needs.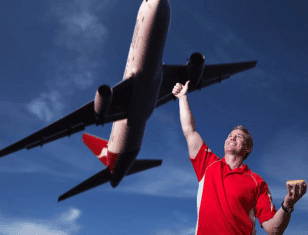 Sales and Marketing Manager Bronson Garlick credits the FIAL support as giving Garlo's Pies an edge with buyers by 'not just having a general brochure to present'. Bronson says this was a 'good learning experience for sure ... allowing us to dip our toe in the water of structuring our presentation to make it engaging and interesting for the potential buyers'.
Armed with their new knowledge, Garlo's Pies took their range to the US for the first time for the 2023 Fine Foods Summer event in New York, coordinated by Investment NSW as part of their NSW Going Global Export Program.
General Manager Jackson Garlick was also optimistic about the experience despite experiencing a few bumps along the way.
"We had recently exhibited at Foodex in Japan in March of 2023 and were able to make some quick and relevant comparisons between the trade shows, cultures and opportunities from both shows.
FIAL's General Manager, Commercial, Rod Arenas, assisted Investment NSW by consolidating the freight for the Australian suppliers on the stand.
"Rod was fantastic to get our stock there, says Jackson.
"As a food business it's important to have samples available at these trade shows to demonstrate our products taste and quality and illustrate our business' point of difference. For Garlo's Pies, if we couldn't get our stock to the show, there wouldn't be any point exhibiting.
"We are happy with how the US trip went, and we learnt ways to improve the experience and be smoother and less stressful next time.
"We received many great leads that we are excitedly following up now."