Founded in 1984, Supreme Poultry is Australia's largest processor of spent hens (old egg-laying hens). From humble beginnings providing poultry to the locals in Eastern Creek NSW, the business quickly grew as the demand for spent hens increased.
In 2014 Supreme Poultry purchased additional facilities on the NSW Central Coast to increase capabilities and begin exporting. By 2020 Supreme Poultry was exporting to five unique markets across the globe.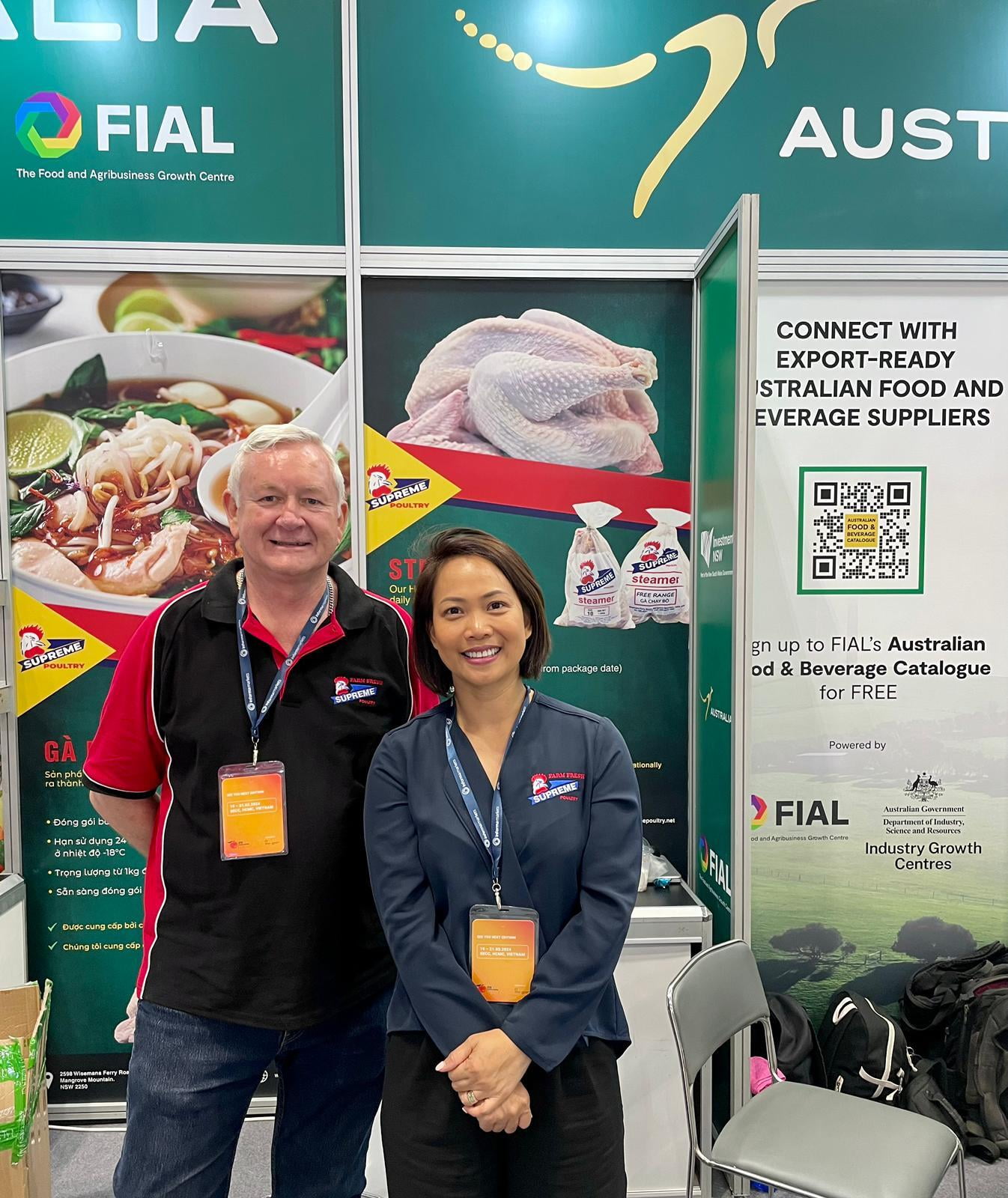 Looking to expand its export portfolio, Supreme Poultry identified an opportunity in Vietnam due to the preference for spent hens over traditional meat chickens. In 2020, Supreme Poultry was involved in the NSW Going Global Program (Vietnam) to deepen their market knowledge, create new connections and kick-start exports into the Vietnam market.

To build on the contacts made during this program and connect with new potential buyers, Supreme Poultry registered to exhibit on the FIAL and Investment NSW stand at Food and Hotel Vietnam 2022 (FHV).

"FHV was Supreme Poultry's first trade show. The whole trade show experience was great, from the positioning of the stall to showcasing our products alongside other Australian companies and meeting new and exciting potential buyers," said Steven Green, Export Manager at Supreme Poultry.
"Our main goal at FHV was to connect with potential buyers in Vietnam. Specifically, we were hoping to connect with a large supermarket chain," said Steven.
Surpassing expectations, the company met with many buyers, including chicken processors, importers, distributors and several supermarket chains.
After FHV, Supreme Poultry continued conversations with one of Vietnam's largest supermarket chains, Central Retail Group, and signed a supply agreement. "This was our ideal customer, and we are proud to have shipped off three 40ft containers as part of this deal," said Steven.
Since FHV, Supreme Poultry has received a number of enquiries from buyers within the Vietnam market and plans to supply more products to various customers soon.